---

---
It's been an interesting experience over the past 10 or so days, mending in the company of friends. If I were at home, I'd expect to run into people and have them ask how I'm doing, but here, there are 11 people who collectively notice every groan and wince, and keep tabs on my progress. Sometimes the'll have a feel of the protruding bone or check out a bruise. Sometimes they'll offer to help, only to find that in the last day or so I've been able to do things I previously couldn't.
I'm not sure if the pieces of bone have connected yet. There seems to be a hard mass of new bone around the break, as though the two pieces are growing toward each other and creating an interface. For a few days I felt as though they had connected, only to have a sneeze, a shock or a sudden jolt knock them apart and have me clicking again.
Last night I slept on a softer bed (as mine had gone on the flight to Bremmer Island with Andy and Lyn), and managed to sleep more comfortable, and more on my right side. Today things feel tighter again, and so far, between yesterday and today, there has been no great shock or jolt that has left me feeling "free".
My not so secret aim is to ride my bike back into Melbourne on the last day. The way things are going, I think I might be sneaking in a few stretches of tarmac before then.
To all the people who have commented here and on Facebook, who have sent well wishes and thoughts, and who have been praying for a swift recovery, thank you. Every time I have blogged or tweeted about another milestone there have been happy and excited comments from friends at home, and the encouragement has been wonderful. And to John, Amanda and others who urged me to go on when I really wasn't sure, thanks so much. I had to come to the decision myself, but you guys helped me to see and consider all my options.
Nick was commenting just before as we floated in the local water hole that it was not so long ago I was looking for flights home. To think what I would have missed out on.

---
It was good to have at least a bit of a sleep in today. As usual, Dad got up before everyone else, and did whatever it is he does when we're alls till asleep. I remember having a particularly pleasant and vivid dream. I remember hearing the zip on my side of the tent opening and dads' voice saying, "Would you like a coffee?". Since all I really wanted to do was get back to my dream, I answered, "No thanks," then heard dad say, "Oh, there's gratitude for you…"
What I'd failed to pick up on (with my eyes closed) was that dad was not so much offering to make me coffee as offering me the coffee he'd already made. Needless to say, a few minutes later I was fully awake and drinking coffee in bed.
Breakfast was pancakes and fried eggs, and I had one of each. Mandy and Marco had told me that the place where the track crossed the creek a little downstream was a good secluded bathing spot, so I grabbed a bucket, my toiletries, my towel and a change of clothes and headed down there to take a look. Nice spot! The water was warm and clear, and it was the most relaxing bath I've ever taken standing up. There's something liberating about getting your kit off in the middle of the bush, and keeping an eye out for crocs and water buffalo just makes it all the more exhilarating. I returned to camp clean and refreshed, and with my clothes washed.
Our friend Paul in Nhulunbuy makes a weekly trip to Bremmer Island, where he spends time with the people there. The island serves as a youth detention centre, and is operated by the elders there. By all accounts it's a preferable alternative to conventional detention, and offenders usually spend around a year there before returning to their communities. Paul was able to offer 5 seats for members of our party to join him today. It was decided that Andy, Lyn, Jordy, Katy and Brad (all members of the same family) would go. They deft us at before lunch to drive the two and a half hours to Nhulunbuy. We'll see them tomorrow night when they return.
Later this morning we intended to head to the cultural centre where Silke works, but unfortunately it had been closed down for the morning due to a visiting dignitary, and we wouldn't be able to go. Instead we spent some time reading down at the wash spot, and after lunch (just as we were planning our next attempt at getting to town) Silke and Zoey arrived with two local women: Daniel's adoptive mother Lucy, and Rudy. They took us to a popular sitting place (just near the wash spot, it turned out) and showed the women how they make baskets and string bags. Men aren't allowed to join in, I found out… only watch. After watching for some time, Marco, Nick and I headed back to the wash spot, where there is also a small but deep swimming hole. The water is cool and clear, and dotted with small waterlilies, and below the surface at exactly the right depth is a perfect log for sitting on. What a way to spend an afternoon.
Around five-ish we followed the ladies into town and finally checked out the cultural centre, where artworks by Lucy, Rudy and other local women were on display and for sale. We bought some supplies, and returned to camp.
After tea, Daniel, Silke and Zoey returned and spent some time with us by the fire.
Good day all 'round.

---
When Andy bought the troopie back in January, he managed to transfer the registration straight into Daniel's name, using his own address so that any correspondence would come to him, and Daniel would remain in the dark.
Around the same time, a tradesman friend of Andy's offered to rent the vehicle for the months until the trip, and keep it in good repair. This was an obvious financial help, but also gave Andy some long-term insight into how the vehicle was running, and what work might need to be done.
The guy who had rented the troopie was pretty certain he'd picked up a speeding ticket a couple of months back, and he and Andy had been waiting for the ticket to arrive in the mail, but hadn't seen anything.
Tonight we learned that speeding tickets don't go to the registered address of the vehicle, but to the registered address of the owner. Daniel revealed that he had received the speeding ticket and had disputed it, saying it was not his car, and that he was nowhere near Ocean Grove when the offence had occurred.
So, our cover was almost blown, and it was only the fact that the number plate of the troupie was similar to an old car of Daniel's that stopped his suspicions from being aroused.

---
I've said it before: drugs are good. The previous night on the Stuart Hwy I'd given up my front-seat bed in the car so that I could sleep under the stars, and as wonderful as the experience was it was not the best night's sleep, and I woke up with a pretty sore shoulder. Last night I took a couple of ibuprofen before bed, and had a much better night's sleep. According to Jane, that meant I snored, which in turn meant that her night's sleep was not so good.
The small wallabies around the Katherine Gorge camp site are cute and fairly tame, and they also like rummaging in the rubbish bags at night. Dad managed to disturb one at 2:00am and salvage the rubbish from being scattered all over the site. Nick and Di both had close encounters with wallabies munching right near their heads as they slept.
I awoke this morning to the sound of birds… many, many birds. The first to make its presence felt had a solo call of long, mournful notes. The sounds was beautiful. Soon after there were flocks of birds overhead, and the noise was spectacular. I didn't want to get up, but eventually I grabbed the camera and the good microphone and set it up just away from camp to capture the sound of the birds.
We packed up and were ready to roll by 8:00am. I'd decided to have a shot at driving, after working out the night before that I could change gear OK with my left hand. I figured I would be able to handle the bitumen section at least.
The bikes were off the trailer, and Nick took command of my trusty ride for the day. That was a bittersweet moment for me. I would have hated the thought of the bike being on the trailer today, but it was still sad to see my baby off with another man.
We set off and fuelled up back in Katherine. A five-minute detour into Woolworths to find an iPod adapter for the radio somehow delayed up by about half an hour, but before long we were rolling.
The road out was great, to the point of making me even more jealous of the riders. After around 60 kays the bitumen came to an end, and was replaced by a well formed dirt road. As with any dirt road around here there were patches of sand and corrugations, but we were happy to be holding 75 km/h. It would mean a late night getting in to Gapuwiyak, but wed get there. We wound up following a raod train, which we might have been able to pass, but decided not to try. The dust it kicked up was incredible, and we were able to establish that he'd be turning off before to long. We dropped our speed a little and kept out of his dust.
We stopped for lunch just past the remains of the Manirou Store (after catching up to the road train again), just after our first river crossing. Both the riders decided to open the throttle on the way out, and both of them nearly lost control as their back tyres slipped on the slimy causeway. By now we were approaching the permit-only Aboriginal land, so we decided that it was time to load the bikes back on to the trailer.
As the day progressed the road only got better. Our average speed increased to 95km/h or so as we continued on. It was sandy a lot of the time, and occasionally the corrugations got pretty rough. There were floodways, wash-outs and a number of river crossings (with actual water in them), but we kept the radio communication going to warn each other of what was coming.
We saw the foliage change and the termite mounds grow and change colour as we travelled along. We saw the occasional wrecked car (don't take a RAV4 to Arnhem Land, and if you do, be sure to take the sweeping left-handers nice and slow), a water buffalo and assorted other wildlife.
Radio communication was interesting all day. When Marco was on the bike and in the lead, he could be heard consistently by Mandy in the last vehicle, usually by Andy in the front vehicle and rarely by me in the middle vehicle. If Andy spoke, he could be heard by everyone, but could only hear Mandy at the back. So for Marco to warn Andy that a car was coming, Marco would speak to Mandy, and Mandy would have to repeat what Marco said. Occasionally I would then have to relay the message again. It took us 20 minutes to tell Andy that we were looking for a lunch stop, and when he finally replied, he said, "Why are you stopping?"
Another vehicle who passed us (and could pick up everything) thought we were hilarious.
We reached Gapuwiyak (Lake Evella) at around 5:30pm, and I'd managed to drive the whole way. It left me with a fair sense of achievement, all things considered, and went some way toward making up for not riding the bike.
When we turned in to Daniel and Silke's street, Silke and Zoey were standing out the front of the house. There was so much going on for all of us at that moment – we'd arrived at one of our key destinations, we caught up with old friends, we'd kept a promise made years before to come visit, and we were promised the chance to just simply rest and be for the next few days.
We made coffee and sat in the yard while Silke told stories of what they had been up to. It was so good to see her again, as beautiful and funny and sassy as ever. For those of us who knew Silke already, it was as though no time had passed since we'd seen her last. And the others in the group seemed to feel right at home, right away.
Silke told us about their old, green Land Cruiser with the open sides and the canvas top, how that day she had put another hole in the roof, and how it was starting to finally wear out, and how she was too often having to use it for work and community activities. As we listened, we smiled quietly to each other.
As it got dark, Silke led us about 5 kays out of town to a camp site in the bush. As we arrived, the clutch in Silke's old green Cruiser gave out completely, and she stalled in the middle of the campsite. Andy the wonder-mechanic took a look, and was able to top up the hydraulic fluid for the clutch, and get it going again.
We set up in the dark, and despite good weather, most of us opted for tents this time. For me, it was the glittering eyes of the wolfe spiders in the bush around us. I can't speak for the others (though I did mention the glittering eyes to one or two as we made camp).
After we set up we started to make dinner. As dinner was being served, Andy and Silke took the Troopie back to town to collect Daniel (after telling Silke that the clutch was still dead in her own vehicle), who had been out hunting for the day. Silke drove, and commented to Andy how much she would love to replace the old Cruiser with a vehicle like that. On the way back, Daniel also remarked on how well a troopie would suit their needs.
When they returned to camp, and we'd all greeted Daniel, Andy gathered us all near the campfire. Without any fanfare, he told Daniel and Silke that the troopie that they'd both just ridden in was actually theirs to keep. He told the story of the last 12 months or more since he'd had the idea to find a vehicle for them, and how the previous owner had looked after the car, and even reduced the price when he learned what we were doing with it. Naturally they were thrilled, and we were all pretty excited at that point.
And we were all pretty tired. My shoulder was starting to remind me just how much I'd put it through that day, and I was first to bed. What a day of blessings: incredibly good and quick roads, in a place where we could only expect the worst, reunions of old friends, and the joy of seeing a gift purchased 10 months ago given at exactly the right time to exactly the right people.

---
It was clear that today would need to be what yesterday was not… that is, we needed to cover some serious distance. The plan was to get to the Central Arnem Road turn-off, head down that for some distance, and make camp somewhere off the road.
We got close. Distance wise, we were spot-on. But through the course of the day we started discussing the prospect of visiting Katherine Gorge – something not on our itinerary at all, but something we all wanted to see. After a few phone calls we worked out that some of our plans within Arnhem Land were going to have to change, and it became clear that a trip to the Gorge would work out pretty well.
It's a little strange to be close to tourists again, but it's worth it. The swimming hole at the Gorge is beautiful, and I'm told by those that could actually swim out from the bank that there were beautiful views of the Gorge walls from out in the water. We paddled while the sun slowly sank, and wandered back to camp.
As I write, Mandy and Marco are preparing fried rice for tea… and it smells good. We're not bothering with tents once again tonight… there's a few more bugs than last night, but it's warm and close, and it should be a fantastic night.
Shower time…

---
Today begins the long hike up to Arnhem Land. The plan was to cover around 900km today, see very little along the way, and trailer the bikes. We got close to that… only it was about 600 kays, and while we didn't see much, we seemed to stop a number of times.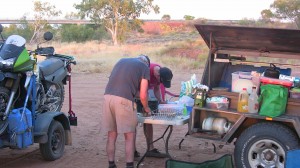 The highlight of the day turned out to be our camping spot, at Morphett Creek on the Stuart Hwy. It was a random stop, but it was beautiful. The dry creek bed, the bridge and the sporadic traffic on the highway was a perfect combination. We parked the vehicles between the road and our chosen spot, and we quickly got a fire going. Dad and I were on cooking duties, so while Dad chopped up the vegies, I started spiking the lamb with rosemary and garlic.
After some time in camp ovens, nestled by the fire (with a whole lot of red wine added), the roast was done… and freaking fantastic! We ate, we drank, and we took endless photos of the campfire, just because we could. We spent the rest of the night looking for satellites, before Dad read us a psalm.
We spent the night out under the stars… and it was wonderful.

---
By the time I'd finished writing my earlier post, the gang had started to return.
Before dinner, and after a swim, we took a drive up to Anzac Hill to enjoy the view and the setting sun.
One thing I forgot to mention earlier is that I met a young couple from Switzerland at church this morning. I'd seen them over at the pancake kitchen this morning, but we hadn't spoken then. It turned out that Michael and Jasmine's campsite was right beside ours. It also turned out that while attempting to gain visas to enter Australia they'd got in touch with our friend Peter Downs, National Director of the Vineyard Churches in Australia. From there he'd put them in touch with some Vineyard pastors who are close friends of some of our company. It's a small and slightly odd world.
Michael and Jasmine joined us for the evening, and sang along when we had some (not so) campfire singing. They absented themselves while we ate dinner, and returned later in the evening. They were a lovely couple, and it was great to get to know them, if only a little.

---

---